Telephone &

Communications
Telephone Systems and Communications
Home and Home Office -

Free

Telephone Service
Get crystal-clear nationwide calling for free. All you pay are applicable taxes and fees. In addition to your home phone, you can use your cell phone from anywhere as if you were on your home phone. Enjoy free outbound calling, see who has called, and access your voicemail all through the Ooma app.
Business and Professional Level Systems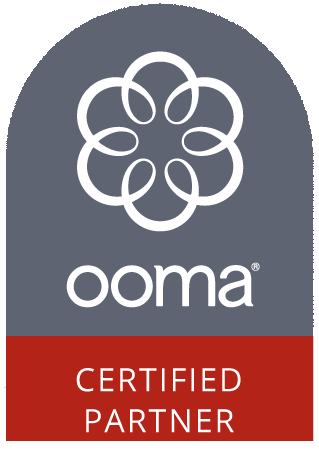 AIMNET is a certified partner of Ooma.
As an Ooma Partner AIMNET offers extensive value added services to the Ooma product line. We stock all Ooma phone products and offer first line of support from a team of professionals. When you purchase from us we:
​
Perform all initial configuration and set-up of your phones and phone services. When you receive your phone(s) you are ready to go. Simply plug it in and start calling.

We offer on-site installation services in select regions.

Hands on training sessions at our training center.

Enhanced first line of support.

Custom built packages specific to your needs.

Full line of products to support your system including POE switches, network installations, smart technology integration and more.

Discounts on custom packages and contractor / affiliate pricing structures.
​
​
​
Ooma phone services bring the power of big business phone systems to small businesses offering more than 35 professional calling features.
​
Unlimited toll-free calling in the U.S., Canada, Mexico and Puerto Rico with low international rates if required.
​
All for $19.95 per month*
​
Virtual Receptionist
Mobile App
SMS Messaging
Spam Call Blocking
Multi-Ring Capable
plus 35 management features
​
Never a contract, cancel anytime
​
Each service includes:
One Public Phone Number
One Private Phone Number
One Conference Bridge Line
One Virtual Fax Line
​
Existing phone numbers may be ported to your new Ooma phone system at no additional cost.
​
* Monthly fee does not include applicable taxes for your state. Tax rates vary. Please contact us to find out your total taxes for your location of service.
Phones and Hardware for your system
Ooma Office
The perfect wireless solution.
If your office lacks phone jacks or network ports, Ooma Office is the perfect solution. A wireless phone system that allows you to use your own phones or the DP1 wireless desk phone.
Ooma Base Station
Ooma Office base station uses your high-speed Internet connection to deliver a superior business phone service.

It utilizes the power of the cloud to deliver advanced features and can support up to four expansion base stations and a total of 20 analog phones. Extensions work

wireless

so installation is a cinch.
DP-1 Wireless Phone
This sleek, 2-line desktop phone is perfect for growing businesses and can meet many communications needs. No Ethernet
cabling or extra adapters are needed, and DECT 6.0 technology is built in. With its sleek design, intuitive interface and wireless capabilities, you'll be up and running in minutes. Each Ooma Office Base Station can support up to 4 DECT devices, including DP1 desk phones and Linx adapters.
Linx





Use your own phone. Simply plug Linx into a conventional power outlet and plug your own phone into the base of Linx.
​
The Ooma Linx with DECT 6.0 technology allows you to wirelessly

connect phones with dedicated extensions or fax machines to the Ooma Office base station.




Connect up to 4 Ooma Linx devices to each Ooma Office base station.
Ooma Cordless
Cordless Phone Solution
Looking for a cordless solution. The W60P and W56H offers a complete cordless solution providing complete portability.
Ooma W60P
This cordless phone delivers a perfect balance of mobility and call management. The phone comes equipped with a W60P base unit and one W56H handset. The base unit can support up to 7 additional W56H handsets – perfect for your growing businesses or home phone service.
Ooma W56H
Perfect for employees on the move or residential use, this phone combines portability and call management capabilities with a sleek design. This phone is an add-on handset to the W60P.
​
​
• Supports 2 simultaneous calls
• High-quality speakerphone
• 3.5mm headset jack
• Up to 30 hours of talk time/400 hours of standby time
• 50m indoor/300m outdoor range
• Color screen with intuitive interface
Ooma IP Phones
Network based phones
IP phones connect to your network via CAT5 cable and an

included

patch cord.
POE options available
T21P
T21P takes entry-level IP phones to a level never achieved before. It features exceptional voice clarity and enhanced speaker quality. It has a 2-port Fast Ethernet switch with PoE (Power over Ethernet) support, an extra-large 132×64-pixel graphical LCD with back light showing a clear 5-line data display, 2-line keys, 4 soft keys, and a RJ-9 connector for optional headset. It supports up to 4 simultaneous calls.
T41S
T41S gives you all of the features you'd ever need, and even more extended functionality that you might not expect. Packed with a faster and more responsive interface than other IP Phones, the T41S delivers crystal-clear voice communications in addition to enhanced Bluetooth, WiFi and USB recording capabilities.
T48S
The T48S IP phone is a robust and effective communications solution designed for executive-level professionals. Its large touch screen makes it easy to shift between pages and applications, and it comes with the latest in HD Voice technology for clear and smooth business calling.
High Volume Calls - Professional Level T27G, EXP20 and T23G Systems
Ooma Phone Service Calling Features
Call Management Features
Calling Features
​
Mobility Features
​
Advanced Features (Ooma Office Pro)
( Advanced features require upgrade and additional fee of $ 5 per month )
​
The Ooma Telo FREE mobile App allows you to use your Ooma phone service from virtually anywhere. On the go workers can use and manage their business phone calls from their smart phone.
​
All calls from the Ooma App appear to orignate from your office phone including your caller ID number. Access voice mail, extensions and all services as if you were sitting at your desk.
Visit our retail and demonstration center for hands on demo of all Ooma products and telephone services. We also offer training, support and all setup and configuration at that location.